Tooth decay can cause a lot of trouble if not treated quickly but it can be difficult to spot without a dental examination. You may not notice any symptoms until decay has significantly affected you.
Almost everyone knows what a cavity is, but what causes tooth decay? Continue reading to learn more about tooth decay, its stages of development, and the possible treatments available.
What is Tooth Decay?
Tooth decay (or a cavity) is damage to your tooth's surface, causing tiny holes or openings to develop. They can happen for several reasons, but poor oral hygiene is prominent in the development of cavities.
Tooth decay is one of the world's most common health problems and is prominent in children and older adults. Cavities may seem insignificant at first, but the longer they go untreated, the worse they become.
They grow in size and severity with time, affecting the inner layers of your tooth. This can lead to severe toothache, infection, or tooth loss, and it's important to watch for the symptoms of tooth decay.
Symptoms of Tooth Decay
With minor cavities, you may not experience any symptoms at all, but severe tooth decay can cause significant pain and discomfort. Common symptoms include:
Toothache
Pain while eating or drinking something hot or cold
Pain when you bite down
Visible holes in your teeth
Tooth sensitivity
Because tooth decay may not be immediately noticeable, regular dental visits (even if you feel fine) can catch any initial development. Also, daily brushing and flossing can help prevent tooth decay. Understanding tooth decay is important to protect your teeth, so what exactly causes it?
What Causes Tooth Decay?
Tooth decay is caused by the formation of plaque on your teeth and typically develops in 5 stages:
Initial Plaque Formation
Plaque is a clear film coating your teeth after eating sugars, starches, and not brushing effectively. Sugar is present in many common foods and drinks you consume each day, including:
Baked goods
Soda
Fruit canned in syrup
Sweets & chocolate
Sugary cereals & bars
Jam
When sugars and scratches sit on your teeth, bacteria feed on them, creating plaque. This can appear as white areas on the tooth where plaque is developing.
Plaque can harden near the gum line and develop into tartar if it stays on your teeth for too long. A build-up of tartar makes plaque harder to remove and protects bacteria.
Enamel Decay
Eventually, plaque will begin to break the enamel, one of the layers of your tooth. Your tooth's surface may break with persistent tooth decay if your body cannot naturally restore its enamel. This creates a cavity needing to be filled by your dentist.
Dentinal Decay
The more tooth decay persists, the deeper into your tooth bacteria can travel. Dentin is what sits between the enamel and pulp, and it makes up most of your tooth. Dentin is softer than enamel, so tooth decay can quickly affect it.
Pulp Damage
The centre of your tooth, the pulp, holds tissue, nerves, and blood vessels. Once tooth decay has reached the pulp, bacteria can cause a formation of pus within the tooth. This stage of decay is severe, and if not treated, can lead to the loss of your tooth.
Abscess
If an abscess develops within your tooth, there are several symptoms you will notice, including:
Severe toothache
Fever
Tender & swollen lymph nodes under your jaw
Tooth sensitivity
Facial swelling
An abscess requires medical attention as soon as possible. The infection present within your tooth can affect other areas of your body, and this can be a serious health concern.
Before you possibly develop an abscess, visit your dentist if you're suffering from tooth decay and they can provide you with effective treatment.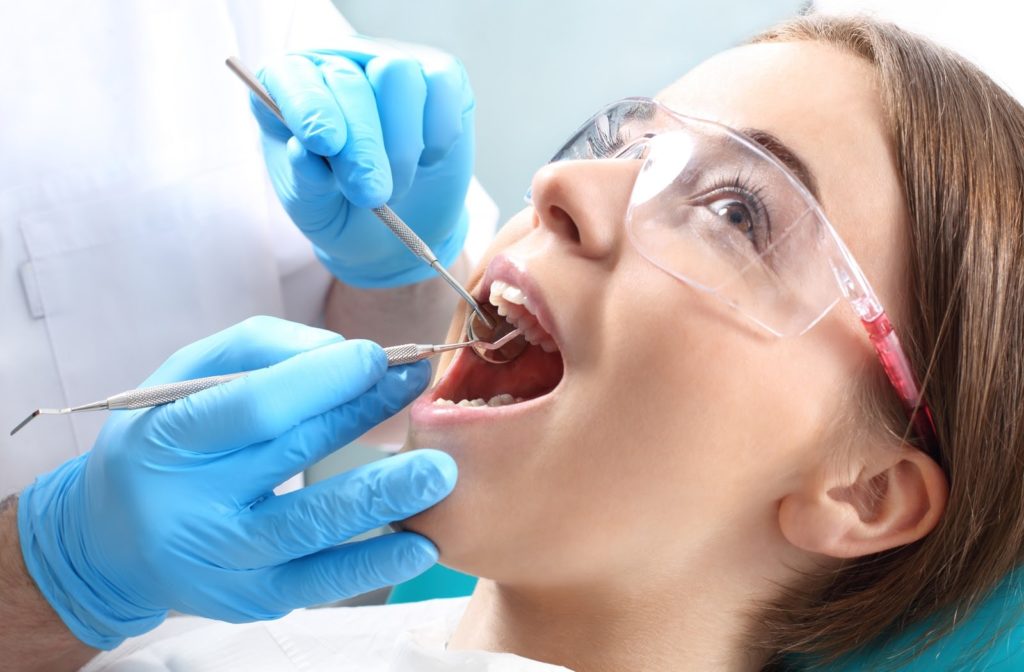 Tooth Decay Treatments
If you're suffering from tooth decay, your dentist has several treatments they can provide you with. The type of treatment depends on the stage of tooth decay you're experiencing, and what will most effectively help you. Possible treatments include:
Fluoride Treatments
In the initial stages of tooth decay, your dentist may recommend fluoride. This may help restore your tooth's enamel and is more potent than the fluoride used in toothpaste and mouth rinses. It can come in liquid, gel, foam, or varnish form.
Fillings
Dentists use filling when tooth decay progresses past the initial stages. They are artificial substances used to fill in the holes within your enamel caused by tooth decay. There are various materials used for fillings.
Crowns
Crowns are custom-fitted coverings to replace the entirety of your tooth's natural crown. They are used when your tooth is weakened or has suffered from severe decay. Your dentist will drill away any decayed areas and enough material to ensure a snug fit for your new crown.
Root Canals
If tooth decay has reached your tooth's pulp, you may need a root canal. Your dentist repairs your infected tooth by removing the diseased pulp and then replacing it with a filling.
Tooth Extractions
If teeth are beyond repair, extraction is the best option. You can receive a bridge or implant as an alternative after your tooth's removal.
While there are many treatments for tooth decay, prevention is your best method of dealing with cavities. Brush and floss your teeth daily while maintaining regular visits with your dentist.
Deal With Tooth Decay at Its Source
While daily brushing and flossing can help prevent tooth decay, regular visits with your dentist are essential to maintaining your oral health. Dental exams can catch any decay in its initial stages, and your dental team can effectively treat your cavity. If you have any symptoms of tooth decay or need a regular exam, book an appointment with your dentist.