Everybody wants straight and healthy teeth. But did you know that having white teeth drastically impacts the way people perceive you? According to a three-part study, individuals that have whiter teeth are seen as more attractive, confident, trustworthy, and financially successful.
But how do you safely whiten your teeth? From professional teeth whitening to at-home solutions, we compiled a list of everything your dentist wants you to know about the right way to whiten your teeth.
What Causes Tooth Staining?
Did you know that your teeth have pores just like your skin? This means that anything you consume can be absorbed into your teeth, which can cause discoloration. The top causes of tooth staining include:
Diet
Your diet not only affects your overall oral health but can also lead to tooth stains over time. When you eat foods that are high in sugar or tannins, the pigments can stick to the enamel of your teeth and can cause long-term discoloration.
Smoking
Smoking is one of the top causes of yellow teeth. Tobacco and nicotine are easily absorbed into the teeth. Stains caused by smoking can be extremely difficult to get rid of.
Illness
Unfortunately, stained teeth can also be caused by certain medical conditions or medications such as:
Radiation and Chemotherapy
Diseases that prevent normal development of tooth enamel (the outermost covering of your teeth)
Asthma medications
Antihistamines
High blood pressure medications
Poor Oral Hygiene
Another cause of discoloured teeth is poor oral hygiene. Having a good oral hygiene routine ensures that plaque doesn't build up on your teeth, which can cause tooth stains. Unfortunately, even if you have a good hygiene routine, discoloration often develops with age and is greatly affected by genetics.
Fluoride
Fluoride is generally good for your teeth, but excessive fluoride exposure can lead to fluorosis in the first 8 years of life. Fluorosis can cause yellow or brown spots on the tooth enamel, and can permanently damage your teeth.
Tips for Whiter Teeth
Brush Your Teeth with Whitening Toothpaste
Although whitening toothpaste is only meant to remove surface stains, instead of actually changing the colour of your teeth, these products are easy to use, inexpensive, and likely won't cause sensitivity issues. For best results, use whitening toothpaste twice daily.
Avoid Teeth-Staining Foods
There are many types of food and drink products that can affect the colour of your teeth. If you are concerned about the yellowing of your teeth avoid the following products:
Red wine
Dark berries such as blueberries or blackberries
Balsamic vinegar
Regular and diet soda
Black tea
Curries
Marinara sauce
To avoid teeth stains from these products, limit your intake, rinse your mouth, or brush your teeth after eating or drinking them.
Prioritize Oral Hygiene
Having an oral hygiene routine can help to reduce plaque buildup, which may help with tooth discoloration. Your routine should include:
Brushing your teeth twice a day
Flossing at least once a day
Getting routine dental exams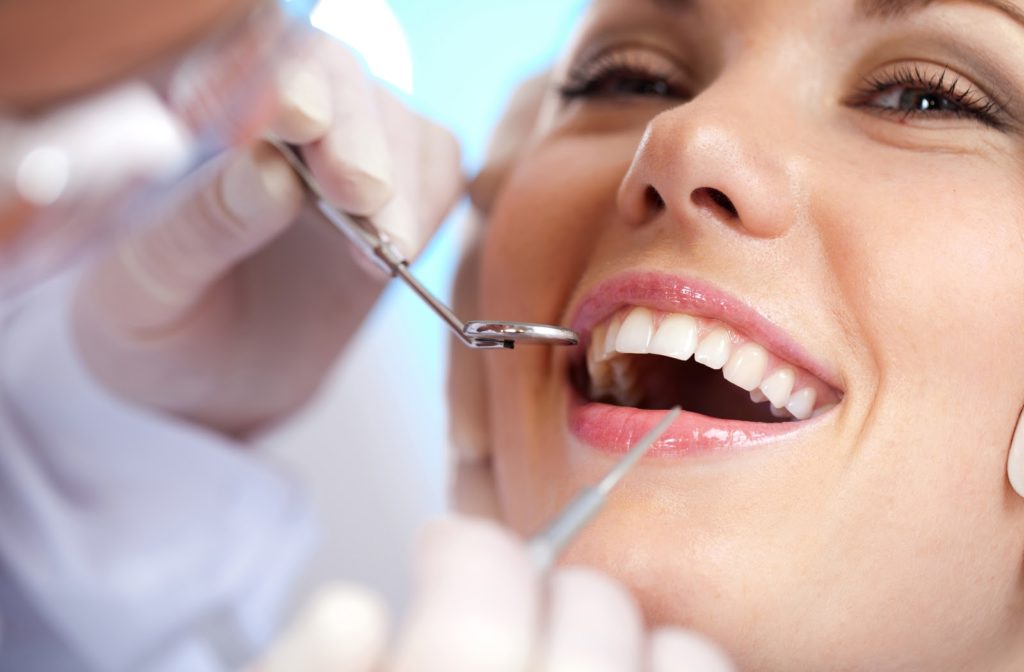 Get a Surface Whitening Treatment
Surface whitening treatments are professional whitening treatments conducted by your dentist that can treat surface stains on your teeth. Surface whiteners are made with fine abrasive ingredients, designed to scrub away stains quickly and easily.
Switch to an Electric Toothbrush
If surface stains are the reason you want to whiten your teeth, you should consider switching to an electric toothbrush. Electric toothbrushes remove surface stains from teeth more effectively than manual toothbrushes.
Quit Smoking & Tobacco Use
If you smoke and have noticed that your teeth are starting to yellow, quitting using tobacco products may be the answer. Smoking cigarettes will stain the enamel on your teeth over time, but this staining can fade after quitting. Unfortunately, most smokers still need additional whitening methods to regain natural colour.
Avoid Foods with Added Sugar
Just as highly pigmented foods and drinks can stain your teeth, products with high amounts of added sugar can do the same. Limit your intake of these products to prevent tooth discoloration.
Apply Whitening Strips
Whitening strips are plastic strips covered with a whitening gel and made to adhere to your top and bottom teeth. They are made with peroxides and adhesives which can damage the teeth over time so you should always ask your dentist if they are right for you before you try this at-home whitening method.
Get Your Teeth Bleached
Teeth bleaching is another professional whitening treatment you can get done at your dentist's office. Teeth bleaching works beyond surface stains and can alter the colour of your natural teeth. Unfortunately, teeth bleaching may not be the right treatment for you if:
You have fillings or crowns
You have undergone root canals
Your teeth are severely stained
Don't Skip Dental Checkups
The best way to maintain your oral health is to ensure you're getting regular dental exams. Getting regular cleanings ensures your oral hygiene isn't the reason for discoloration. This is also a great opportunity to talk to your dentist about any concerns you have about teeth whitening treatments. Your dentist can also help you decide which treatment options are best for you.
The Benefits of Professional Teeth Whitening
Professional teeth whitening is a quick and easy way to get the smile of your dreams. Benefits of getting your teeth professionally whitened include:
Fast and impressive results compared to at-home teeth whitening methods
Lower teeth sensitivity
Custom made treatments based on your needs and preferences
If you are interested in whitening your teeth, book an appointment with us today to discuss the treatment options that are right for you!