Broken teeth or a tooth needing extensive fillings are two very uncomfortable situations. In these cases, there could be damage going into the deeper layers of the tooth. A patient might need a root canal or a dental implant to fix damage or decay in a tooth's root. To work on the roots means you have to compromise the structure of the tooth.
When the tooth structure is off, you can't bite normally, and the remaining surfaces are vulnerable to plaque that you'll have trouble removing.
If some of your teeth are in rough shape from the inside out, or if you've met with an unfortunate dental emergency, you might have the unenviable task of getting it fixed. That's the bad news. The good news? Depending on the remaining surfaces, the extent of the fracture, or remaining decay you're dealing with, a dental crown should restore a solid bite, free from infection risk.
What's a Dental Crown?
When a tooth breaks or looks vulnerable to breaking, or there's space left by a root canal, but bottom parts are mostly intact, it might not need an extraction or anything as drastic as that. It could be that it just needs the product of a restorative procedure called a dental crown.
The causes can vary, but if the solution is a root canal, it requires the dentist to hollow out a tooth to work on decay or injury at its roots. In other cases, a tooth (roots and all) needs to be totally replaced with a dental implant screwed into the jaw. A dental crown is a synthetic material replacement for the top part of the tooth, adhered either to the remaining natural foundation of the tooth, or the base of a dental implant.
What Parts of the Tooth Does a Crown Fix?
Every tooth has the same layers, even though they come in different shapes and sizes. From outside in, these layers are the enamel, the dentin, the pulp, and the root. As long as the fracture or decay leaves some dentin to work with, the crown replaces the tooth's former shape. In that case, your dentist will sculpt it a bit so it's thin enough to accommodate a crown.
If there's no dentin to work with, an implant gets screwed into the jaw, leaving an artificial nub above the gumline to serve as the base for the crown. Either way, a crown fits over the artificial or dentin foundation, resembling the crown on a monarch's head.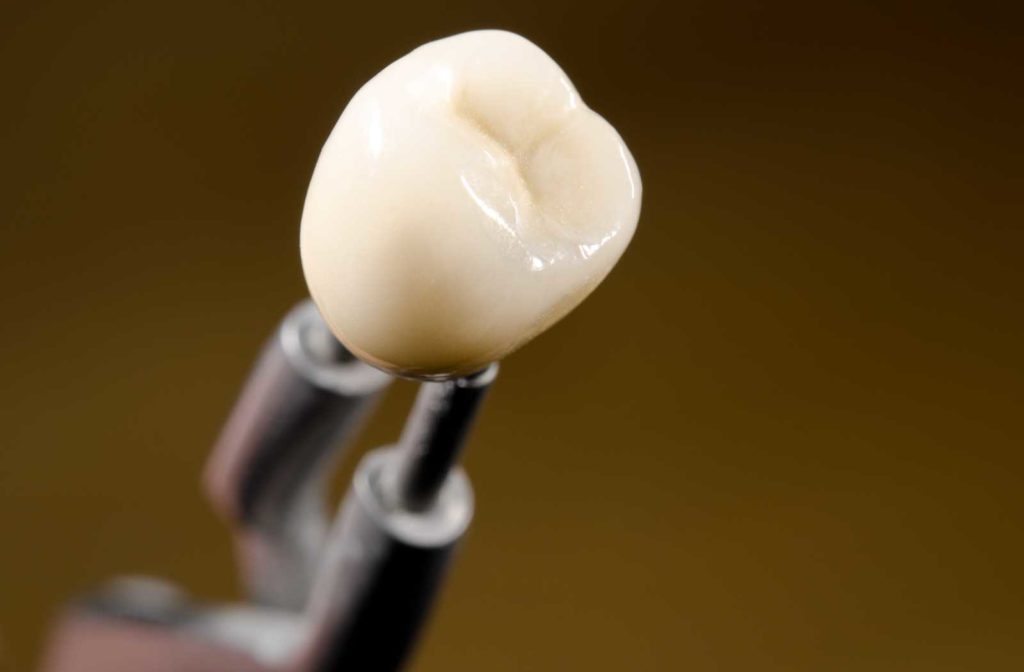 What Materials for Dental Crowns Are Available?
Crowns come with a choice of material. Each has its pros and cons, so your dentist might have to make some strategic decisions with you.
Metal
These amalgam crowns are dense yet malleable. They're quite robust and durable while maintaining decent flexibility in conforming to your bite. But they're not so rigid that they damage natural teeth when they make contact. But perhaps a bit like facial tattoos, prominent gold teeth can be off-putting for those who don't share the same style.
Porcelain Ceramic
Porcelain tends to look the most natural. But they're more brittle than other materials, so they may chip more often. Because they're so fragile, many dentists don't use them on molar or premolar teeth, where they'll be under a lot more bite pressure from ordinary chewing.
Composite
Composite looks naturally off-white. They won't chip as much as porcelain crowns, but they aren't durable against regular chewing. Moreover, brushing your teeth quickly wears the highly polished shell of composite crowns, so they'll easily lose that natural look.
Porcelain-fused-to-metal
These crowns incorporate porcelain and metal amalgam, and they take the best of both worlds. They're the strongest type, with decent flexibility, and they look more natural than metal crowns. They won't chip as easily as porcelain or ceramic crowns. But the metal foundation may show if your gums have receded significantly.
How to Choose a Dental Crown Material
It all depends on which tooth we're talking about here. Given the natural advantages of each, it's a subjective balance between easy maintenance, the crown's longevity, and aesthetics. Practically speaking, metal (gold) is the best choice. It covers the root of the tooth, protects the other, unaffected teeth in your bite, and won't chip or change colour.
But a natural-looking smile is vital to most of the patients we see, and because of that, we do a lot of work on helping people achieve the right dental shade. Given that preference, dentists put some thought into which teeth benefit most from metal. We recommend choosing metal for the innermost top and bottom molars. Most intensive chewing relies on the molars, so you'll want something that won't break.
Porcelain comes recommended mostly for the outer surfaces of your front and top teeth — the very center of your smile. You could also put them on the lower front teeth, but they might chip, making contact with the inside of your top row of teeth.
Composite provides a good choice for that lower front row in some cases, where they make only glancing contact with the inside of your upper front teeth. The discolouration from brushing could be noticeable, but it won't be front and center when you smile.
Porcelain-fused-to-metal goes well with canine teeth and teeth preceding molars in some cases. The metal at the gum lines are harder to spot when you smile, but you'll have the flex you might need when chewing meat, raw vegetables, nuts, or other hard chewing foods. The contact points aren't under as much pressure as the molars' are.
Strategize with Your Dentist
The best thing to do is make use of your dentist's experience. Beauty is in the eye of the beholder, so each of the pros and cons depend on viewpoints shared by you and your dentist. You're welcome to get a recommendation for what material to choose, based on the technical surface area and tooth number.
Choosing the right material along with good maintenance should grant you about 10 years useful life for a crown. You'll have to brush and floss correctly, though, just like natural teeth. But great dental crowns will have you appreciating your new smile in a new light!