It's no surprise that oral health refers to so much more than the health of your teeth. The mouth is a breeding ground for bacteria and germs that can easily nestle their way into your gums, opening up the opportunity to cause gum disease (periodontal disease). In fact, a recent CDC report suggests that 47% of adults over 30 have some type of gum disease.
Thankfully, dentists are highly trained to assess the extent of gum disease in their patients and provide meaningful solutions to manage their symptoms. But, what does your dentist look for to determine gum disease? How is gum disease managed? And what can you do to protect yourself from it?
Today, we're going to look at these questions, and more, so you are better prepared against gum disease. However, every patient is different, and there isn't a blanket treatment that helps everyone. Please speak to your dentist to get help finding solutions right for you.
Spotting Gum Disease
Signs of gum disease can be detected with a routine dental exam. During this exam, your dentist will have a detailed conversation regarding your health history to note any health risks you may have that could affect your oral health (i.e., smoking) before moving on with the rest of the exam.
During the exam, your dentist will look for signs of gum disease by examining your gums for inflammation and using a special probe measure pockets around your teeth. Some of the common signs your dentist will look for include:
Constant bad breath
Swollen, tender, receding, or bleeding gums
Loose or sensitive teeth
In more serious cases, your dentist may refer you to a periodontist for treatment.
How Gum Disease Develops
Gum disease always starts with the buildup of plaque on teeth. Plaque is a combination of bacteria, mucus, and other particles that builds up over time. If the plaque isn't removed, it can harden and form tartar, which can only be cleaned by a dentist or dental hygienist.
The buildup of tartar can then lead to gum disease.
Certain health factors can also increase the risk of developing gum disease, including:
Diabetes
Hormonal changes in girls and women
Illnesses
Medications
Genetics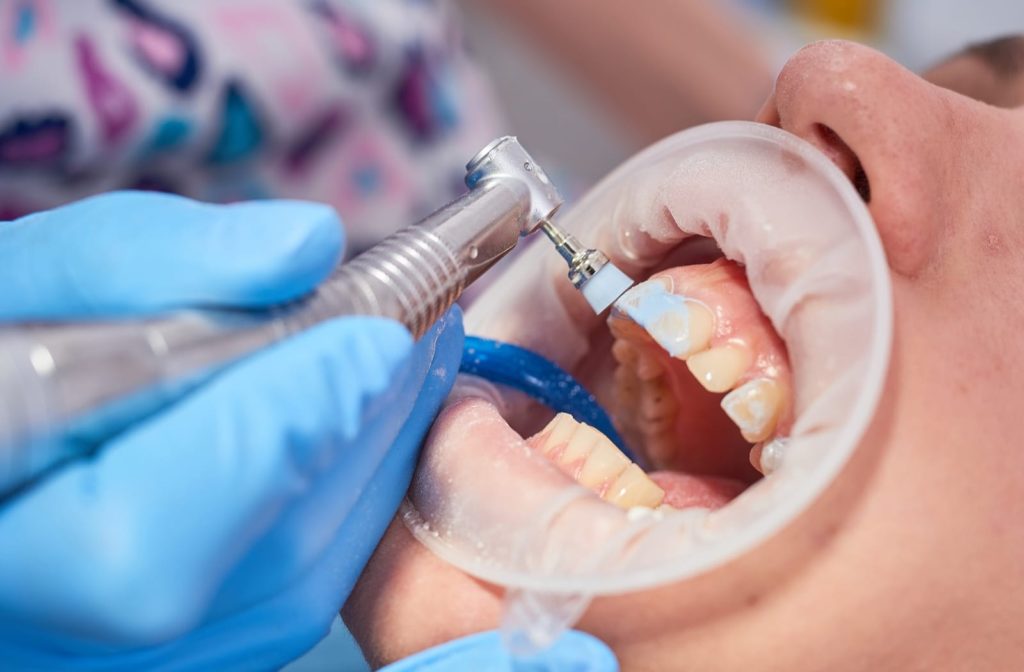 How Are Gum Diseases Treated?
Treatments can vary between patients, but this is determined during a dental exam. Some common ways dentists treat gum disease include:
Scaling & Polishing
Scaling and polishing are standard cleanings performed by a dentist or dental hygienist, typically packaged with a routine dental exam. During a scale and polish, the dentist will scrape away tartar and plaque using various instruments and tools before polishing your teeth to help remove stains.
Root Planing
Root planing is performed when the patient needs to remove bacteria attached to the tooth's roots. Because of how thorough this cleaning process is, patients may need a local anesthetic to numb the area.
Following the treatment, patients may experience pain in the treated area for up to 48 hours.
Periodontal Surgery
In more serious cases, the patient may need to have periodontal surgery. There are various surgeries the dentist could have, depending on their symptoms. Some could include:
Protecting Yourself From Gum Disease
Despite all the different periodontal treatments dentists can offer, none will achieve their full effectiveness without the continuous care for oral health at home.
Every patient needs to ensure they are brushing and flossing every day to remove plaque and bacteria related to gum disease. On top of this, patients should also be having a dental exam at least once a year, but most dentists recommend at least 2 appointments a year.
Book Your Appointment Today
If you believe that brushing and flossing isn't providing you with the bright, healthy smile you crave, please book a dental exam and cleaning with us today. Our team can help determine the cause of your oral health problems and provide you with meaningful solutions.