How well you can bite down and how straight your teeth are can affect more than just your feeling at that moment. It can affect your oral health. Invisalign serves as an excellent choice for dental patients seeking relief from problems with dental alignment. If you can take care of these issues, you should be better off at your next dental exam.
But the way they're worn, continuously for over 22 hours a day, means you have to change up your diet. Your meals will have to be limited to times of the day when you can thoroughly brush your teeth. Most foods you can eat worry-free, brushing away residue with ease. But some foods can escape your best efforts to clean.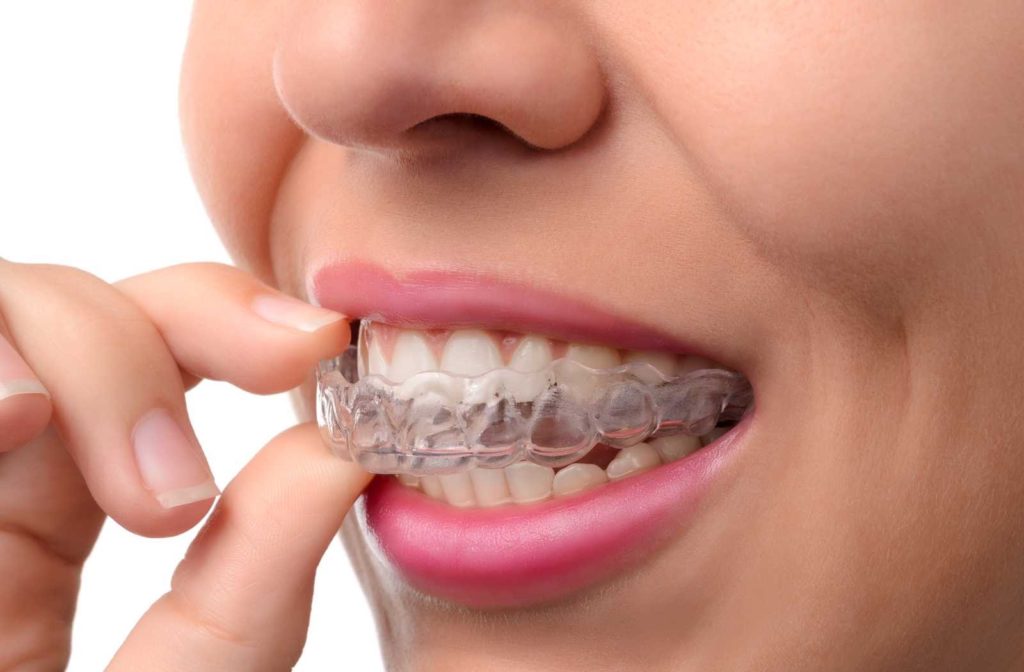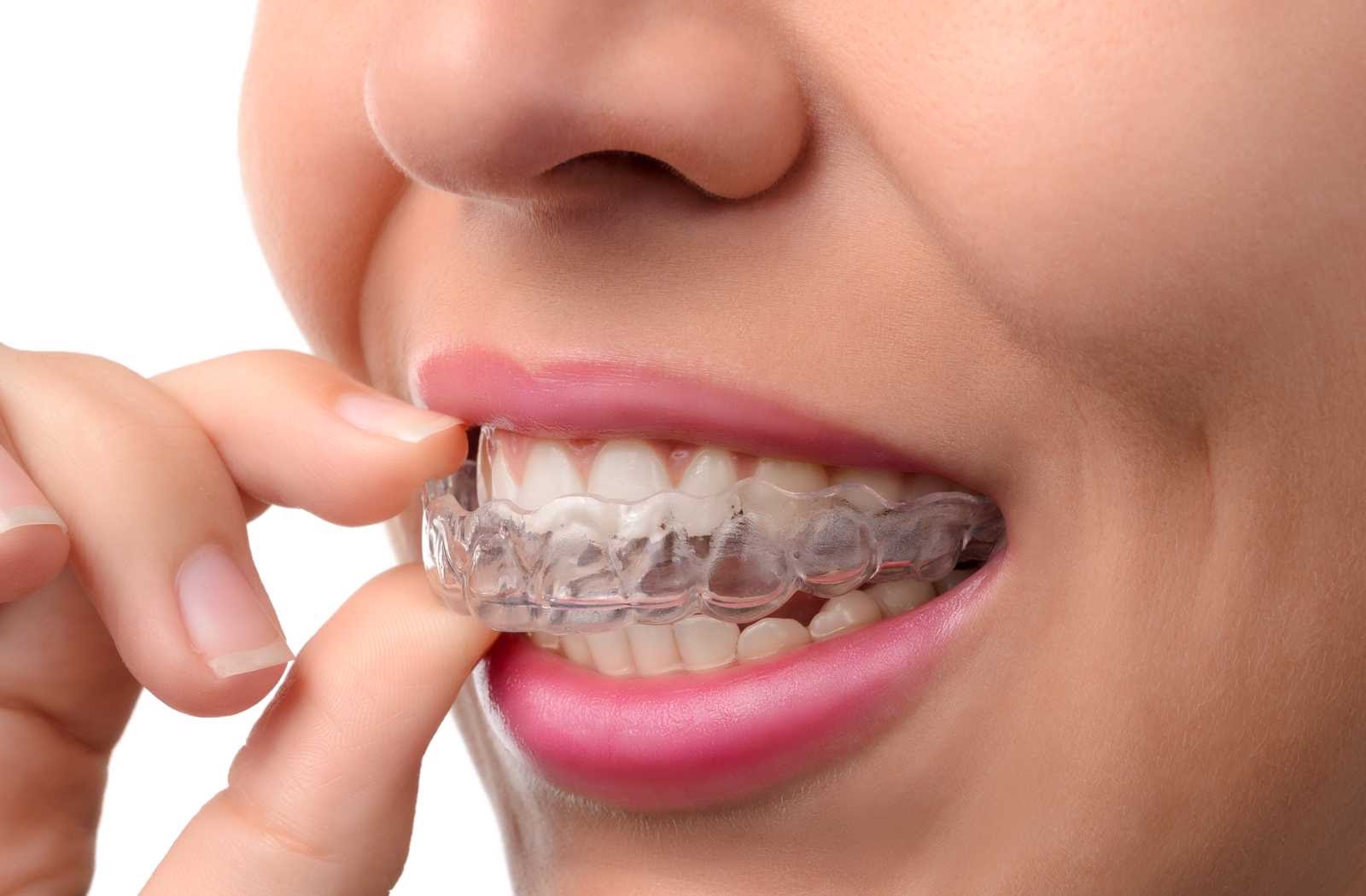 Sweet Food & Drink
There's good reason for brushing thoroughly before you place your Invisalign aligners back in. Small particles of food leftover in your mouth can become food for bacteria residing on your teeth and gums.
You can probably guess that very sweet foods leave plenty of sugars for bacteria to thrive on. Cavities can develop very quickly with the level of plaque buildup.
Anything with high sugar content counts, including cake, ice cream, sugary gums, soda pop, fruit, and dessert of any kind. You may want to give up anything sugary for the duration of Invisalign treatment. Otherwise, your brushing and flossing regimen after you indulge has to be consistently exceptional.
Bacteria thrive in warm, dark, enclosed spaces, especially if they have something to consume. The thin, plastic inside surface of your aligners seals them in, so to control their growth, you have to keep your mouth as clean as possible.
Plaque is the byproduct of their multiplication, and it can lead to tooth decay. Many foods help with plaque development, especially sweets and alcohol.
Alcohol
Alcohol has trace sugars that can feed plaque. While there's not much conclusive evidence that alcohol itself decays teeth, dentists can tell when a patient has been enjoying even moderate drinking. Having an alcoholic drink between meals won't save you a trip to the bathroom for brushing and flossing once it's time to put your aligners back in.
Clear spirits like vodka may look like water, but it can dramatically aid plaque development. Even a dash of lime juice in water can lead to plaque. Having a clear spirit won't save you from extra brushing either.
Staining Food & Drink
You may want to avoid unsightly staining while you're wearing Invisalign. Otherwise, you might find yourself needing professional teeth whitening once they're aligned.
It can be subjective when you're trying to pick a dental shade that's right for you. Still, you might not be happy with changes to your dental shade after staining becomes a byproduct of your journey with Invisalign. A few alcoholic drinks and food can stain your Invisalign aligners as well as your teeth.
Several prominent alcoholic spirits (beer, mead, whiskey, etc.) contain chromogens, which can transform into pigments. Pigments, whether transforming from chromogens in alcohol or naturally occurring in other foods, can then cause extrinsic staining, where pigments infiltrate your teeth's surface, the enamel layer.
Food and drink containing pigmentation can include:
Coffee
Chewing tobacco
Blueberries, blackberries, cherries, pomegranates
sports drinks
Soy sauce, curry sauce, and tomato sauce
Several types of tea, especially black tea
Smoking & Vaping
Tobacco is effective at discolouring your teeth when chewed, and smoking it (or smoking cannabis) can also stain quickly leave stains. Vaping substances can do the same thing.
If you're putting your Invisalign back in your mouth, you won't want these foods or oral substances leaving pigments behind. Rinsing with water and then brushing your teeth can help. But avoiding them until you're finished with Invisalign might be better.
Foods Interfering with Invisalign's Fit
The orthodontic function of Invasalign relies on a careful fit between the aligner appliances and your teeth. Some foods are so chewy that they stick to small spaces in between your teeth and disrupt the gentle pressures responsible for realigning your teeth.
Sticky Foods
Sticky, chewy foods like taffy, chewing gum, or caramel are some of the main culprits for this kind of orthodontic interference. Even your best efforts to clean your teeth might not be enough to remove it all altogether—before you reinsert your aligners.
Stringy Foods
Meat or vegetables like steak, spinach, chicken, soft corn niblets, or asparagus that can get stuck in between your teeth are other factors. They can jam the spaces between your teeth open, changing the way the pressure in your appliance works. You could floss to remove them, but it might be better to choose other dishes while you're using Invisalign.
Hard Foods
Anything overly crunchy, like unpopped popcorn kernels or ice cubes can damage your teeth, possibly chipping and cracking them. Damage might require fillings, bonds, or other restorative work. If they have any damage, it could change the pressure between your teeth.
Hot Food & Drink
If you're going to drink water with no additives like lime juice, you can leave your aligners in. It won't cause plaque or stick in any way. But the water can't be hot. A light tea, aside from the kind of staining mentioned earlier, could warp your aligners. The plastic in them is designed for body temperature, so a hot beverage, even pure hot water, can't make contact with your aligners.
Cool Water Might Be All You Need
Invisalign's hygiene and dietary requirements can be demanding, but it's well worth the time. After all, if your strictness prevents restorative work or teeth whitening, you'll probably be glad you planned meals carefully. Invisalign looks great, granting a beautiful smile. You can make it through the diet if you try. Ask your dentist, and we can go from there!