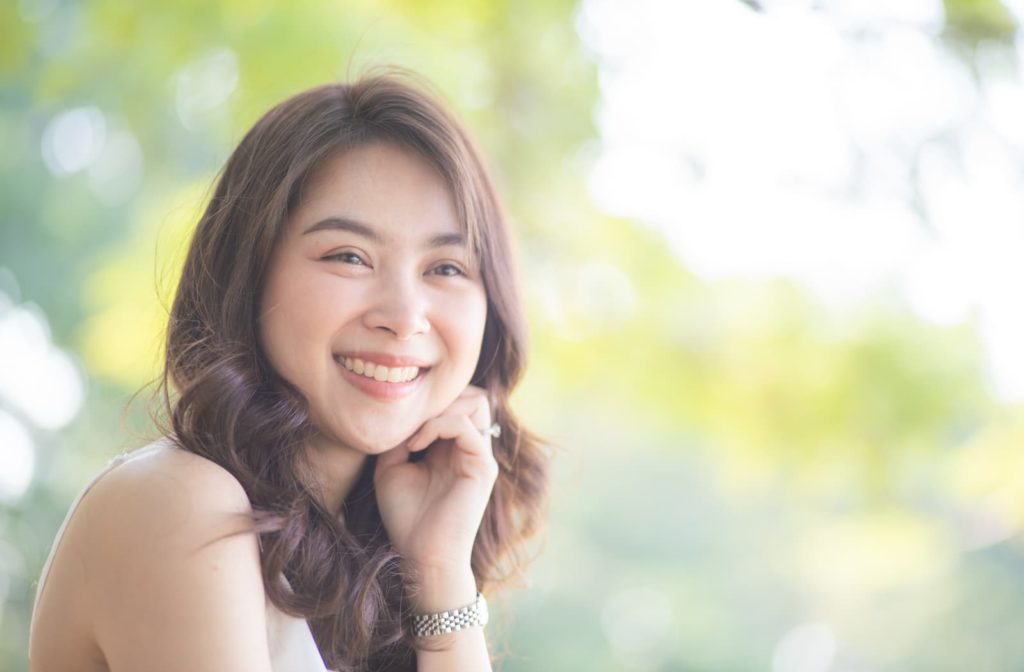 It's unusual to have perfectly white teeth, and beauty is in the eye of the beholder. But if you feel that your teeth could be whiter, you might be able to reach a shade that better reflects a healthy glow. That might mean you can change the shade of your teeth for the better, but you'll have to decide on whether to do it at home or at the dentist.
How White Are Teeth Supposed to Be?
Teeth have several layers, the outside of which is the enamel. Underneath this layer is a much thicker layer called dentin. This dentin layer ranges from white to yellow, depending on age and genetics.
There are a few factors affecting your teeth's whiteness like age, diet, and hygiene habits. Age really affects the colour of your teeth since the dentin layer naturally darkens as we age, and there's nothing really wrong with having some level of yellowness.
When we think of diet, we usually refer to the types of nutrients we get from food, but diet affecting tooth colour has more to do with the pigments found in the food or drink. Pigments stain the outer surface in a process called extrinsic staining.
Over time, this discolouration can work past the enamel layer in a process called intrinsic staining. The usual suspects causing this type of staining are red wine, coffee, tea, cola, red fruits, soy sauce, and berries.
Neglecting brushing and flossing habits can lead to discoloured teeth if you haven't had a focus on brushing several times a day and flossing at least once a day. But it's never too late to start.
Yellow Brown or Grey Teeth
If you feel your tooth colour is off, it would help to distinguish whether your teeth are more on the blue to grey side of discolouration, or if they're browner than they could be.
Some children develop a condition called dentinogenesis imperfecta, where tooth discolouration takes on grey, amber, or purple hues. Teeth whitening may have limited effect in these cases.
How to Prevent Tooth Discolouration Prevention
You can stave off browner discolouration by developing good habits, like brushing your teeth after every meal, rinsing your mouth after drinking coffee, tea, red wine or cola – and by ensuring you get regular dental cleanings.
Root canals are another issue, but they can be linked to discolouration. Discolouration can occur when there's a delay in repairs to nerve damage on the pulp layer of affected teeth. It's staining from deep within the tooth and whitening won't help if it's not treated soon.
If you still experience discolouration despite good habits and regular dental care, you can try some professional or do-it-yourself, at-home whitening solutions. Here's where you can try to turn it around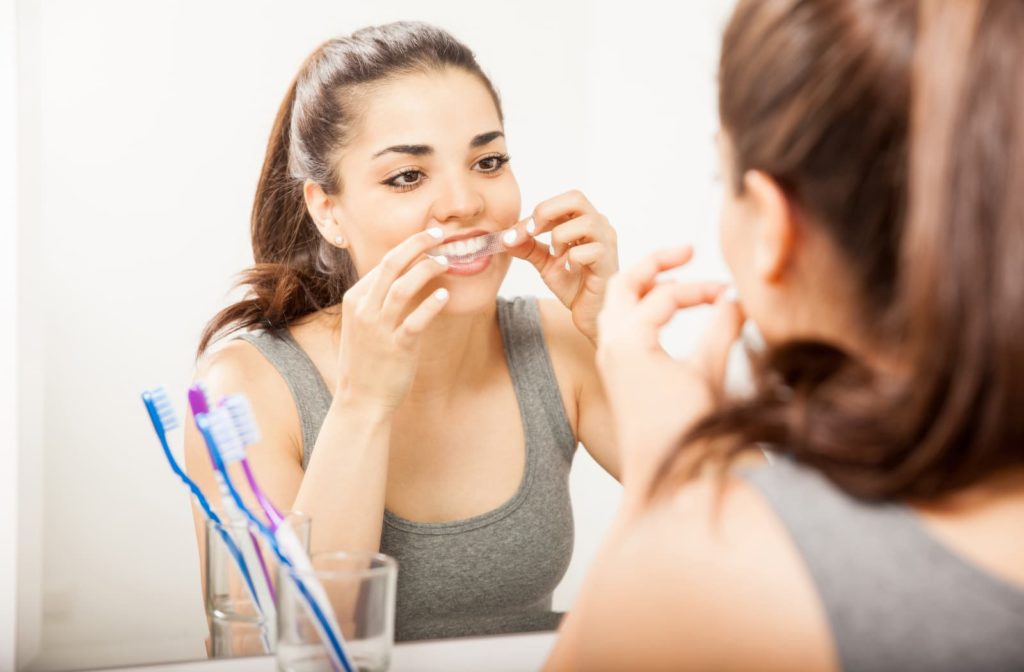 Whitening at Home
Pros
At-home treatment begins with a great oral hygiene regimen to remove that extrinsic tooth staining. For intrinsic tooth staining, where pigments penetrate past the enamel layer,
over-the-counter products like whitening strips may get rid of the discolouration. Whitening strips using peroxide typically whiten teeth by 1-2 shades, and their efficiency is limited. However, if all you're looking for is a lift in colour, whitening strips are a great tool.
Cons
Some chewing gums and toothpastes advertised as having a whitening feature use abrasive particles to scrape extrinsic stains off the tooth's surface. These particles are much finer than regular tooth paste's abrasives, so while they aren't likely to wear enamel off faster, these whiteners aren't going to do anything extraordinary for dental health or appearance. Rubbing stains away with these methods mean rubbing an important part of the tooth away as well, so it's a solution that doesn't scale that well with time.
Whitening at the Dentist
Pros
With professional guidance and processes, you can optimize your whitening treatment to suit you, and safely attain your ideal tooth shade in short order. Bleaching, or the use of peroxides, allows for removal of discolouration without abrasion.
Dentists can use techniques like power bleaching to lighten teeth a few shades in less than an hour, thanks to the use of stronger bleaching agents and lights to ensure lightening reaches 3 to 8 shades, as opposed to the 1 or 2 shade improvement possible through home whitening kits. There's a big difference in the efficiency of methods, so there's a big difference in results.
Cons
A trip to the dentist can cause some anxiety in some people. As long as you can find a dentist that cares about your comfort level and best practices, it doesn't have to be the unpleasant situation it's made out to be.
Teeth whitening can also require several sessions to reach the right shade, and typically, the first session has more dramatic results than subsequent sessions.
Tooth colour is nuanced and it might be best to have the professionals help you choose the shade that's best for you. At the end of the day, your smile is in your control, teeth whitening can be an important part of it.