Maintaining a good oral hygiene routine at home is crucial. When paired with regular dental cleanings with your dental professional, it can preserve your dental health by preventing gum disease and tooth decay.
Flossing is a big part of your oral hygiene routine; sometimes, you may notice bleeding from your gums when you floss. This bleeding can be caused by many things, like neglecting your dental care routine or using improper flossing techniques.
The good news is that your dentist can help you get back on the right track. Let's take a closer look at some causes of gum bleeding following flossing and how you can correct it.
Getting to the Bottom of Gum Bleeding
Gum bleeding after flossing is pretty common and not usually considered too serious. But you may be wondering what the cause is if you've noticed your gums bleeding after you floss.
The most common reason for gum bleeding can be a buildup of plaque or tartar. Both of these substances can allow bacteria to form along your gum line and cause sensitivity and bleeding when flossing.
Other common causes of bleeding gums can include:
Not brushing your teeth enough
Using a worn toothbrush
Having gingivitis or early-stage gum disease
Using dental floss too roughly
It can be easy to ignore minor bleeding, but it's important to monitor regular bleeding issues as that can be a sign of gingivitis and potentially periodontal disease.
It's important not to panic about bleeding gums after you floss, as it can just signify you need to floss more often or adjust your flossing techniques. That's where your dentist can help.
How Your Dentist Can Help
The first step is to visit your dentist for a comprehensive dental exam and cleaning. Your dental team will thoroughly clean and address hard-to-reach places you may have missed during your daily brushing and flossing routine.
Routine dental exams allow your dentist to check the overall health of your teeth and gums. An exam is also an opportunity for you to communicate any bleeding issues you may be having and if your flossing technique needs work.
Even if your teeth and gums seem healthy and free of disease and decay, it's crucial to visit your dental professional every 6 months for a check-up and cleaning. Preventive care plays a huge role in your overall oral health, so it's important to stay consistent!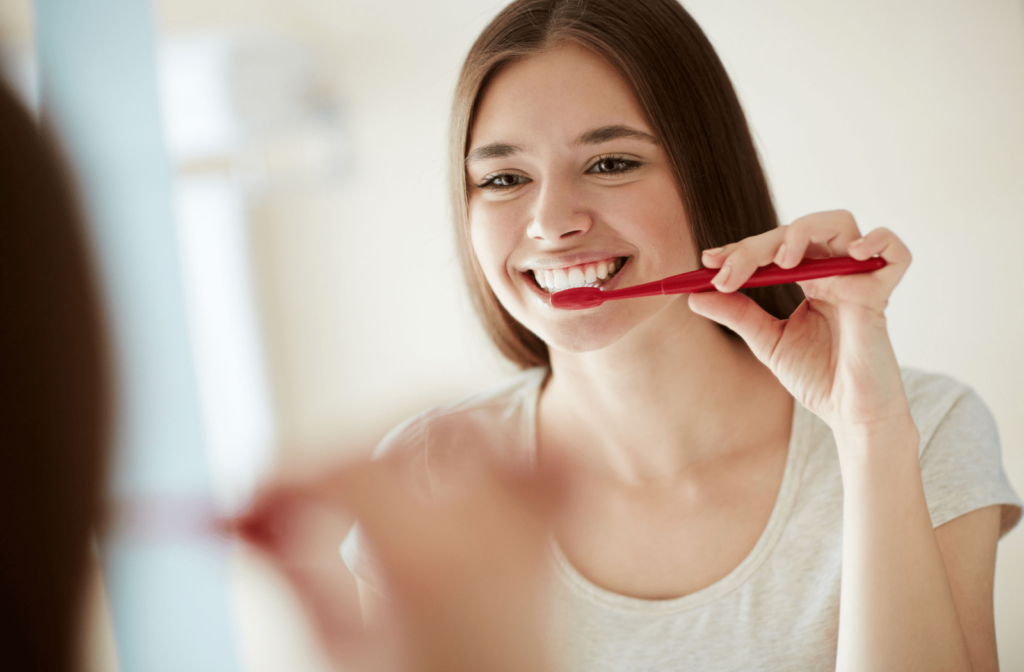 Preventing Gum Bleeding
Here are some ways to ensure your at-home dental routine is effective
Use the Right Toothbrush
The right toothbrush can make all the difference. If you have sensitive gums, opting for a toothbrush labelled as extra soft or sensitive can be easier on your gums.
It's also important to replace your toothbrush every 3 to 4 months as the bristles can wear out, reducing your toothbrush's effectiveness.
Daily Gentle Flossing
If you haven't flossed in a long time, this can cause bleeding. Easing yourself into a new flossing routine can help; after a few days of consistent flossing, the bleeding should stop.
Regular flossing does wonders for your overall gum health.
Avoid Smoking
Smoking is a major cause of gum disease and can damage your body's immune system. This damage can make your body less able to fight off bacteria that stick to your gums.
Avoiding smoking can help strengthen your whole body, including your teeth and gums.
Adjust Your Diet
Avoiding processed and sugary foods can help fight off gingivitis. Eating more leafy greens in your diet can also provide essential nutrients like vitamin K, strengthening your body and preventing blood clots.
Prioritizing Your Oral Hygiene Routine
Your oral hygiene routine is an essential part of protecting your overall health. Regular visits to your dentist, combined with an effective daily oral hygiene routine, can preserve your long-term oral health.
Book an appointment with our team at West 85th Dental and get to the bottom of your gum bleeding issues today.