You've heard a lot about fluoride lately, and West 85th Dental wants to make sure you have all the facts about this incredible mineral that helps support healthy tooth enamel.
Fluoride is a naturally-sourced mineral that helps prevent cavities and builds healthy, strong teeth. This useful mineral is often already present in many of the foods we eat, helping fight the harmful bacteria that target our teeth and gums.
Fluoride wears many helpful hats, and it not only protects teeth from decay, but can also reduce enamel wear from acidic foods, like:
Salad dressing
Fruit juices
Tomatoes
White wine
Soft drinks
It's easy to think that fluoride only works for kids, but did you know that fluoride can benefit the whole family? Talk to your dentist at your next teeth cleaning, and find out if a fluoride treatment will work for your smile!
Some Facts About Fluoride
Fluoride is often added to dental hygiene products like toothpaste and mouthwash, due to its ability to protect teeth from tooth decay.
Fluoride is the ionic form of the element fluorine, a naturally-occurring mineral found in rocks, water, and soil. It's one of the more abundant elements in the earth's crust, and it can also be found in natural groundwater.
Researchers discovered fluoride's effectiveness for fighting cavities in the 1940s; they found that children who drank naturally-fluoridated water experienced less tooth decay than children who lived in areas without fluoride in their natural groundwater.
Since then, studies have overwhelmingly shown that optimized doses of fluoride added to a community's water supply results in a decrease in tooth decay.
Extensive worldwide oral health research has consistently showcased the effectiveness and safety of fluoride, and the Canadian Dental Association (CDA) endorses the use of fluoride in dentistry.
The use of fluoride in strengthening teeth and preventing tooth decay has become one of the most highly-successful health care measures in history, and its benefits can be seen in healthier smiles all around the globe.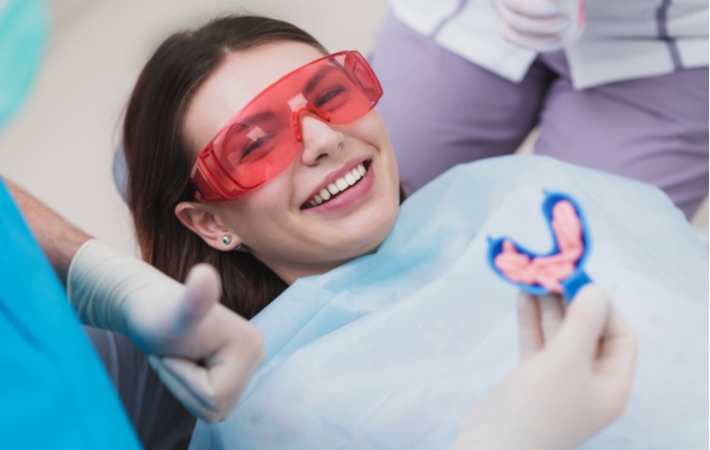 The Benefits of Fluoride
Fluoride is often added to drinking water in communities that do not have sufficient levels in their groundwater supply. Fluoride levels are optimized to ensure strengthened teeth and a reduction in tooth decay.
Fluoride & Children
Fluoride is typically recommended for children between the ages of 1 and 16, prior to the arrival of permanent teeth. When fluoride is ingested in small doses, it helps prevent acids from damaging the enamel of developing teeth and prevents tooth decay.
Your dentist will often use topical fluoride on your child's teeth during their routine dental cleaning.
Fluoride & Adults
Adults prone to plaque build-up and cavities can significantly benefit from fluoride treatments. Fluoride treatments can also be beneficial for:
Patients taking prescription medications that restrict saliva flow: Lower saliva production can increase the risk of tooth decay.
Patients with receding gums: Your tooth's roots are more vulnerable to cavities and decay.
Patients who need frequent fillings: Patients with excessive tooth decay may benefit from additional fluoride.
Patients with orthodontics: Having orthodontics can be challenging for oral hygiene. Fluoride treatment can help keep teeth clean and healthy, even in those harder-to-reach places.
Patients with sensitive teeth: Fluoride treatments can help re-mineralize your tooth enamel, reducing the irritation and pain resulting from sensitive teeth.
Fluoride at Home
Yes, you may find trace amounts of fluoride in your water or food, but these levels may not be enough to make a difference. In that case, grocery and drug stores carry various kinds of toothpaste and mouth rinses containing fluoride.
Your oral hygiene routine plays a huge role in the amount of fluoride needed to prevent tooth decay, so brush with a fluoride toothpaste at least twice a day, and try to limit acidic or sugary foods that may affect your teeth.
Remember: Consult your dentist before allowing children to use fluoride toothpaste at home. Fluoride can be harmful if used in excess, especially for younger patients. Find out the right amount of fluoride for your child, and supervise them during toothbrushing.
Professional Fluoride Treatments
A fluoride treatment from your dentist contains a higher amount of fluoride than any products used at home.
At West 85th Dental, we suggest fluoride treatments around every 6 months, usually following your routine check-up and cleaning. Fluoride application takes up to 5 minutes to completely penetrate the tooth's enamel.
Following treatment, our knowledgeable staff provides instructions on caring for your freshly-cleaned teeth at home, and will advise you to avoid eating or drinking for about 30 minutes post-treatment.
Talk to Us About Fluoride
Routine dental care and fluoride toothpaste can help provide protection from tooth decay, but many patients could benefit from professional fluoride treatments. For more details about the benefits of fluoride, reach out to the team at West 85th Dental.
We're passionate about healthy smiles and happy families! If you have any questions about fluoride treatments for you and your family, book an appointment today.