Brushing, flossing, and a proper diet are all part of a healthy oral routine. But if you want truly clean teeth, you need some professional care as well. Regular dental cleanings are essential in keeping your teeth cavity-free and shining bright.
Did you know there are different types of dental cleanings? Any type of teeth cleaning will help keep you ahead of gum disease and teeth staining. But there might be a type of cleaning that's best for your oral needs.
A dental cleaning twice a year is important even if you get professional teeth whitening, have dental implants, or wear veneers. Let's discuss the types of dental cleanings that are available for most people. And please book your next dental exam and cleaning if it's been a few months since you've seen your dentist.
Why Dental Cleanings Are Important
Most of the things about the dentist that intimidate us — the drilling, prodding, and poking — are the result of not getting your teeth cleaned professionally.
When bacteria remains on your teeth it turns into a sticky substance known as plaque. Plaque is naturally occurring in everyone's mouth, but when it's not cleaned regularly, it can lead to tooth decay. Tooth decay is a reason you might need a filling, a root canal, or have an entire tooth removed in extreme cases.
Keeping plaque at bay requires good oral hygiene habits at home and a partnership with your dentist. The Canadian Dental Association recommends the following for preventing tooth cavities and oral disease:
A professional dental exam and cleaning every 6 months, even if your teeth are healthy
Brushing twice a day, for 2-3 minutes each time
Flossing once daily
Benefits of a Professional Dental Cleaning
The benefits of a dental cleaning go beyond simply removing plaque and tartar. Semi-annual dental cleanings improve your oral health and your lifestyle in the following ways:
Cleanings support your daily teeth cleaning routine and remove plaque from the places you may have missed. An elevated cleaning prevents tooth decay and other oral complications. Fluoride treatment during a cleaning makes your teeth stronger and resistant to cavities.
Cleanings are usually paired with a dental exam. Exams allow your dentist to survey your oral health. They can look for early signs of cancer, the condition of your gums, and spot cavities that you may not know existed.
Dental cleanings keep your teeth bright and shiny! Cleanings remove tooth stains and prevent discolouration. You can expect your teeth to look and feel polished. Dental cleanings help raise your smile confidence!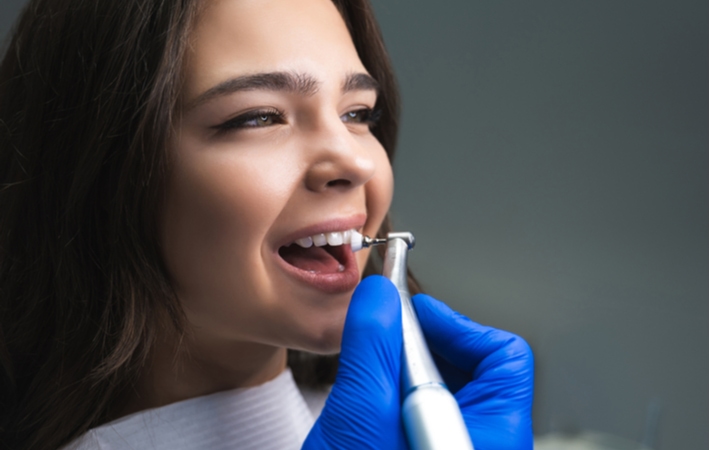 The Different Types of Dental Cleanings
The purpose of a dental cleaning is always the same: to keep your mouth healthy and your teeth clean and strong. But depending on your specific oral needs, you may require a more specialized clean.
The best way to control plaque build-up and fight oral disease is with regular visits to your dentist. Semi-annual cleanings keep your cleanings simple and get you out of the dentist's chair quicker.
Prophylaxis Cleaning
This is a technical way of saying 'a general teeth cleaning'. Oral prophylaxis is the regular teeth cleaning routine that most of us are familiar with. Prophylaxis is any treatment done to prevent disease.
This type of dental cleaning is common for people that have generally healthy mouths. The treatments common in a dental exam and cleaning can include:
X-rays
Brushing with a gritty paste
Flossing & polishing
Fluoride treatment or dental sealants
Dental examination
Scaling & Root Planing
This is deep teeth cleaning. Scaling and root planing are non-surgical procedures but more intensive than standard brushing or polishing. It involves scraping the teeth with small dental tools. Scaling removes tartar from below the gum line. This protects your gums from periodontal disease.
Root planing smooths the tooth root and helps the gum attach firmly to the tooth. Your dentist may recommend this procedure when there is plaque buildup at the gum line. Floss thoroughly and daily to avoid scaling and root planing during your dental cleanings.
Full Mouth Debridement
Patients who have avoided the dentist for too long or do not practice healthy oral habits may require a full mouth debridement (FMD). Also called a gross debridement, this is a thorough deep cleaning of your entire mouth.
This procedure is for removing severe plaque buildup. The dentist may use ultrasonic tools and may require using a local anesthetic to numb sensitive areas during cleaning. FMDs are more invasive than standard dental cleanings. Regular visits to the dentist can usually prevent the need for FMDs.
Periodontal Maintenance
Periodontal diseases affect your gums and the structures around your teeth, including your bones. Managing these diseases requires specialized cleaning. Periodontal maintenance is designed to prevent gingivitis and other diseases from returning.
If you have been previously diagnosed with gum disease you may receive periodontal maintenance during your dental cleanings. Your dentist may ask to see you every 3 months for more severe cases of periodontal disease. In some instances, you may require oral surgery to fully remove plaque buildup.
Keeping a Clean, Healthy Smile
Depending on your oral health and the amount of plaque removal necessary, different intensities of dental cleaning may occur each visit. One thing is for sure though — seeing your dentist twice a year will keep your teeth healthier and whiter.Dental cleanings help your teeth stay cavity-free and give dentists a chance to stop oral diseases before damage is done to your teeth and gums. Book an appointment to revitalize your smile and get that refreshing feeling in your mouth that only professional cleaning can provide.