If you've ever heard of "laughing gas", you're at least a little bit familiar with nitrous oxide. Nitrous oxide is a natural gas often administered during sedation dentistry. It is a type of anesthetic that is very safe when used correctly and under the supervision of a professional.
Most commonly used to reduce pain or calm anxious patients, nitrous oxide is administered for a variety of procedures in modern dentistry. Is nitrous the right choice for you during an upcoming trip to the dentist? Let's find out!
What is Nitrous Oxide?
Otherwise known simply as nitrous or N2O, nitrous oxide is a naturally occurring gas (at room temperature) that is odourless, colourless, and non-flammable. It is used for several applications in everyday life: as a propellant in food products (think whipped cream canister), an engine fuel additive, and in healthcare as a sedative. The dentistry world has been using nitrous oxide for over 150 years.
Nitrous oxide is commonly referred to as "laughing gas" because of the euphoric feeling that most people experience when it's administered. Just as its name suggests, nitrous oxide is a gas mixture of nitrogen and oxygen.
The Effects of Nitrous Oxide
When consumed in a controlled setting, nitrous oxide has a euphoric effect on the body. This can occur when N2O is inhaled as a gas and reacts with the brain, altering pain and pleasure receptors. Effects occur almost instantaneously and diminish quickly once the gas is no longer being consumed.
Using Nitrous Oxide in Dentistry
Nitrous is used in several capacities in healthcare to manage pain and keep patients relaxed. It's always a patient's choice to receive N2O, and there will be a complete explanation of what to expect during any sedation dental procedure.
Why We Use N2O
Let's face it, some dental procedures can be a little bit intimidating. Some patients find it very difficult to relax, sit still, or keep their mouth open during restorative care or a root canal. Nitrous oxide provides a simple and easy way to keep a patient tranquil while the dentist is working. N2O is also safe to use on children and older patients.
Nitrous oxide is a preferred sedative in dentistry because of its rapid onset, general safety, and the short period it takes to regain alertness afterwards (when compared to other anesthetics). N2O keeps you calm while your teeth are being fixed, and allows you to go back to a regular day not long after you visit the dentist.
Although the effects of nitrous oxide are temporary, West 85th Dental does recommend that you arrange a safe way home with a responsible adult following any sedation dentistry procedure.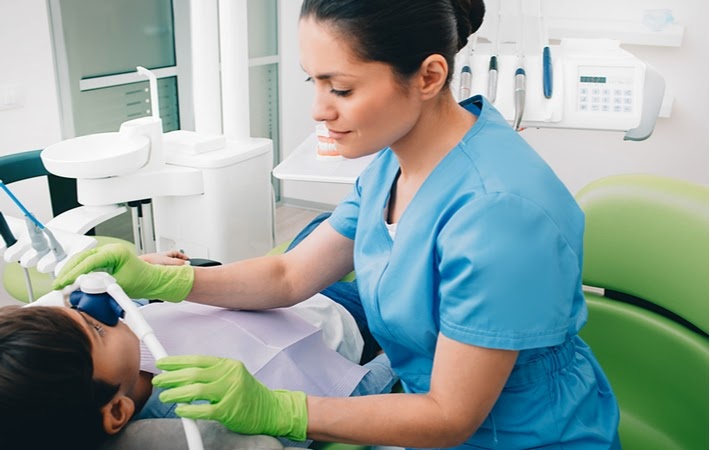 How It's Administered
Combined with pure oxygen, nitrous oxide is inhaled by the patient through a nose hood, a sort of mask that covers only the nose while your teeth are worked on. Gas is turned on and off throughout the procedure to keep patients calm but without losing consciousness. Most patients will experience reduced discomfort but still be able to respond to questions from their dentist.
Side Effects
The majority of people will have no side effects after using nitrous oxide at their dentist. A slight tingling or numbing can occur while you inhale N2O, but this is not painful. For some, however, there may be temporary discomforts. This may include:
Shivering
Nausea
Dizziness
Vomiting
Excessive sweating
Fatigue
Try to avoid heavy meals before using N2O as this will lower the chances of nausea. If you are unsure about using nitrous oxide or experience any uncharacteristic side effects following your visit, contact our office right away.
Nitrous Know-How at the Dentist
Both the Canadian Dental Association and the Alberta Dental Association outline safe, effective guidelines for using nitrous oxide in dentistry. Remember that even though nitrous is totally safe to consume under supervised conditions, it can be a dangerous gas when abused or used recreationally. Using nitrous to lower pain or relax a patient is a safe and common practice in modern dentistry. Expect a conversation with your dentist about your general health before electing to use nitrous oxide during a dental procedure. For most people, nitrous is a simple way to make your next trip to the dentist a little more relaxing.