In Search of a Brighter Smile
Tooth whitening is becoming much more commonplace, and people everywhere are sporting brighter smiles.
In the past, those with sensitive teeth were often discouraged from using teeth whitening treatments, but with updated technologies, dentists are discovering new options for their patients.
The Science of Sensitive Teeth
Several factors can contribute to sensitive teeth, like:
Cracked teeth
Teeth grinding
Brushing habits
Diet
Caring for sensitive teeth can be complicated, and at West 85th Dental, we recommended consulting your dentist before starting a whitening routine. When whitening agents like peroxide penetrate the tooth enamel, sensitive teeth can become easily irritated, causing aggravation to the nerves and gums.
Your dentist has a firm grasp of your teeth and your dental history, and they can work with you to determine the most effective option for your smile. Many dentists will hesitate to recommend whitening treatments if you have gum disease or cavities related to teeth sensitivity.
If your dentist determines that whitening isn't an option for your teeth at this time, there are fluoride rinses, varnishes, gels, and types of toothpaste that can help with sensitivity and pave the way for whitening in the future.
However, if your teeth are healthy enough to handle whitening, your dentist can provide insight into the best treatment for a brighter smile.
How Does Whitening Work?
Most tooth whitening treatments involve a bleaching agent to whiten the shade of your teeth. The two main types of bleaching gels are carbamide peroxide or hydrogen peroxide, and the amount of peroxide can vary by treatment.
There are other options available if you would like to brighten your smile without using bleach. Most toothpaste companies offer a whitening option with chemicals and polishing agents to help lift stains and discolouration.
A professional cleaning at your dentist's office can also help to remove surface stains from your teeth.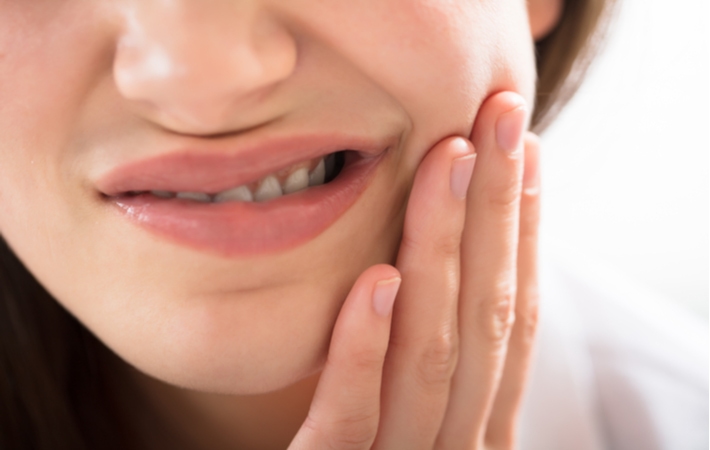 Solutions for Sensitive Teeth
Everyone's teeth are unique, and whitening treatments that work for some smiles may not always work for others.
At-Home Teeth Whiteners
Consult your dentist before starting any at-home whitening programs, especially if you have sensitive teeth. Many products will easily irritate sensitive teeth and gums. Follow the directions carefully and read the labels closely for warnings about teeth sensitivity.
At-home teeth whiteners are typically the most cost-effective way to brighten your smile.
Full-strength whiteners can be highly uncomfortable for sensitive teeth, but thankfully, companies have created specially formulated, over-the-counter products for a more gentle experience.
Before purchasing an at-home teeth whitening product, you should:
Check the ingredients: Those with sensitive teeth may experience more irritation with certain ingredients, formulas, or bleach concentration within the product.
Consider reducing the application time: Shortening exposure time can help minimize irritation for sensitive teeth.
Choose products made specifically for sensitive teeth: Products designed for sensitive teeth contain ingredients that help reduce irritation and inflammation.
Professional Whitening Treatments
Professional teeth whitening performed by a dentist is typically a more expensive option, but it can be the best solution for those with sensitive smiles. Professional whitening is often the most effective procedure for removing stains, and lasts longer than at-home treatments.
Your dentist will pay close attention throughout the process and work hard to ensure your gums and teeth are safe and happy. Some dental offices offer desensitizers and gels to alleviate irritation while your teeth are being whitened.
Your dental office may also offer professional whitening kits for purchase.
Veneers
If your teeth are very stained or too sensitive for whitening, your dentist may suggest veneers as another option.
Veneers are created using porcelain or resin-composite:
Porcelain veneers: A cap designed to be fitted over each tooth. Porcelain veneers are strong, stain-resistant, and appear very similar to natural teeth.
Composite-resin veneers: These veneers are made of a tooth-coloured material that's bonded to each tooth. They are not as resilient as porcelain veneers, but are less expensive and easily repaired. Patients with more sensitive teeth can benefit from composite-resin veneers because they require less tooth enamel for placement.
Book an appointment to discuss the different types of veneers available. Your dentist will decide which veneers will work best for your smile!
How to Maintain Your Newly Whitened Smile
It's a special day when sensitive teeth get a little bit brighter, and you'll want to make sure that your beautiful new smile lasts as long as possible.
Here are some tips to help prolong the effects of your teeth whitening procedure:
Brush or rinse your teeth immediately after consuming foods that frequently stain teeth, like black coffee, tea, wine, tomatoes, and dark fruit juices.
Use a straw to help protect your teeth from liquids that can cause discoloration.
Avoid smoking cigarettes, or using other stain-causing tobacco products.
Eat tooth-healthy foods like yogurt, cheese, apples, and celery.
Speak to a Professional
If you have sensitive teeth and are considering starting a whitening routine, book an appointment with your dentist to discuss the options. At your appointment, the dentist will examine your mouth and determine which whitening options will work best.
If you have additional questions about whitening products and procedures for sensitive teeth, do not hesitate to contact our team at West 85th Dental. We're an experienced and knowledgeable team who can help you find the right solutions. We love making our patients smile!